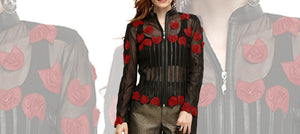 We offer our products, which are produced by hand-embroidered and embellished real leather pieces on tulle.
In our adventure that started in 1991, we exhibit the products we designed and produced in Paris, London, New York, Tokyo, Copenhagen and Berlin fairs and export them to be sold in boutiques selling special products in many different cities of the world.
All of our products are made of 100% Genuine Leather.
Leaf Patterned Genuine Leather Women's Jackets
---